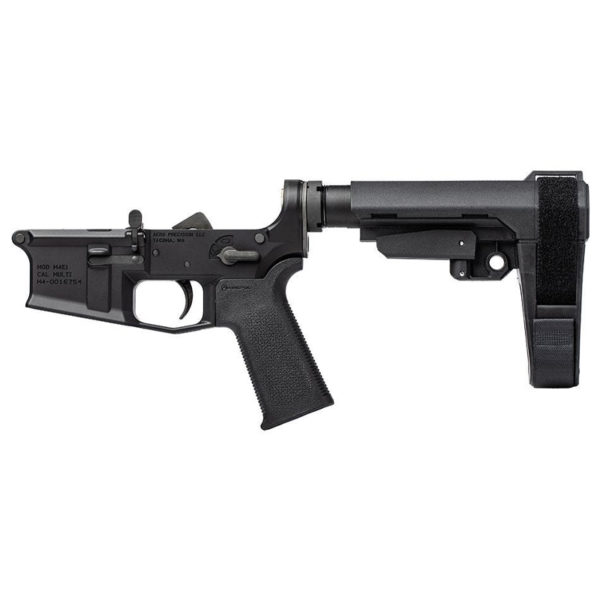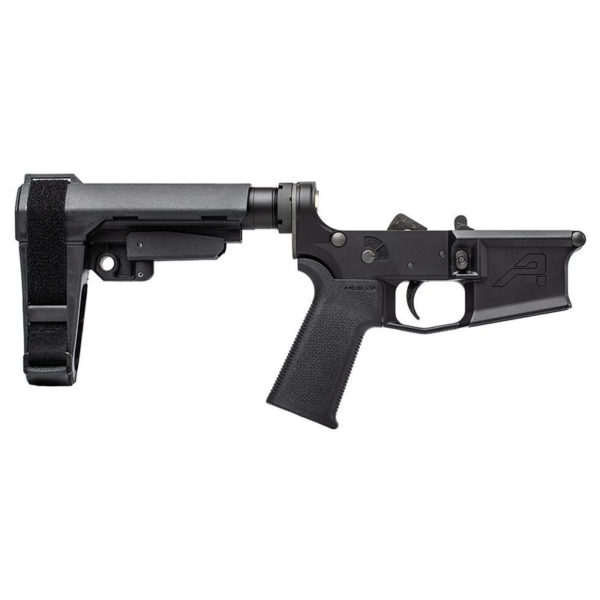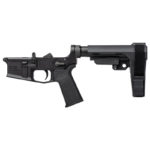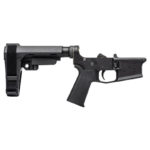 Aero Precision M4E1 Pistol Complete Lower Receiver w/ MOE SL Grip & SBA3 Brace – Black
$354.99
The Aero Precision M4E1 Complete Lower Receiver with SB Tactical Stabilizing Brace is the perfect starting place for your AR pistol build!
This complete lower features an M4E1 Lower and is upgraded to include an SB Tactical SBA3 Stabilizing Brace. The SBA3 is an adjustable ATF Compliant Pistol Stabilizing Brace that provides integral QD sling sockets and increased stability for your AR Pistol. Save when you buy this Complete Lower Receiver and let Aero Precision's specialists do the installation for you!
---
What's in the box?
M4E1 Lower Receiver
SBA3 Brace
Magpul MOE SL Grip
Lower Parts Kit
Carbine Receiver Extension
AR15 Carbine Buffer and Spring
All parts are completely assembled and ready to snap to your upper receiver
---
Note: Enjoy!

Heads up! This item must be shipped to an FFL or picked up at Penn Armory by a buyer at least 21 years of age. You will have the option to enter the name of your FFL during checkout. Please have your FFL send an email with a copy of their license and your name/order number to Info@PennArmory.com. Your order will ship immediately following the confirmation of your FFL.
---
Description
Additional information
Description
Why choose M4E1 over a standard mil-spec lower receiver?
Aesthetics aside, the M4E1 is one of the staples of a modern AR15. Aero Precision has removed some of the most cumbersome tasks with AR-platform building and baked the improvements into its flagship lower receiver.
Threaded Bolt Catch Roll Pin – Allows for simple installation of the bolt catch and virtually eliminates the chance to damage the finish during installation (pin included). 1/16″ Hex Key required for assembly.
Integrated Trigger Guard – Eliminates the possibility of breaking the trigger guard tabs by integrating the trigger guard into the lower, creating a stronger more rigid platform to build upon.
Upper Tension Screw – Allows users to fine tune the fit of the upper and lower receiver using a nylon tipped tensioning set screw inserted in the grip tang of the lower receiver. This provides a tight fit with any standard AR15 upper receiver.
Threaded Takedown Pin Detent Recess – Allows user to easily install the Takedown Pin detent and spring with the use of a 4-40 set screw (no more launching detents across the room).
Increased Magwell Flare – Increased the flare of the magwell to aid in quick and efficient magazine changes.
Marked and milled to accept short-throw safety selectors, but will work with standard selectors as well.
Additional information
| | |
| --- | --- |
| Brand | Aero Precision |
| Caliber | .223 Remington, 5.56×45 NATO |
| Condition | New |